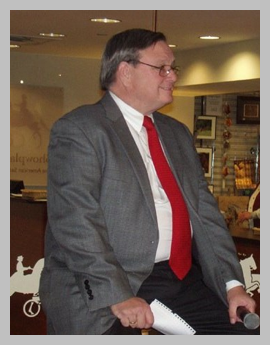 Jimmy Robertson's experience in the equine auction business began decades ago with the now legendary sales conducted by his father Jim B. Robertson. In 1993, Jimmy personally handled the dispersal of Foxfire Stud, Inc., which was one of the most successful private equine dispersals. Today, he and his wife Helen own and operate Infinity Stables in Simponsville, Ky., where they breed, train and sell American Saddlebreds, Hackneys and Standardbred roadster show horses.
In 2010, Robertson coordinated several breeds' presentations at the hugely successful World Equestrian Games held at the Kentucky Horse Park in Lexington. An abundance of communication and planning ensured a well-coordinated event -- and that's exactly what consignors and guests can expect from Robertson Equine Sales LLC's upcoming auction.
In 2012, Jimmy and Helen organized Robertson Equine Sales LLC, hosting two popular equine auctions per year (spring and autumn). Quickly, these events became known as "The Sale." Held at the historic and convenient Shelby County Fair Grounds, in Shelbyville, Kentucky, the Robertsons' sales are strongly promoted, well-organized, hospitable and enjoyable auction events that routinely draw attendees from all over the U.S. and from Canada. Always seeking to develop more ways to return value to consignors and purchasers, the Robertsons' sale leads the market with online and digital channels -- in addition to furnishing traditional, high-quality printed catalogs -- that provide multiple ways for prospective buyers to participate. From breeding farm production sales, to show farm dispersals, to UPHA Classics Jackpot-nominated offerings -- and much more -- you'll find the show horse stock you're looking for at one of our sales.
Learn more about Jimmy & Helen's unparalleled experience with the show horse industry:
Office Staff Our office operations of Robertson Equine Sales are designed to help you get checked in and checked out, quickly and efficiently.
Auctioneers We are very pleased to have Tom Biederman,
renown auctioneer from Lexington, Kentucky, joining us at the microphone. Tom is a third-generation horseman who was raised on High Point Farm in Springfield, Kentucky. High Point was a large Saddlebred breeding farm which stood such notable stallions as Starheart Stonewall, Starheart Peavine and others. Tom showed Saddlebreds for several years but instead of continuing the breeding/training business, Tom decided to become an auctioneer with an eye toward selling horses and real estate. Some of Tom's first jobs after auction school include bid-spotting at the famous Tattersalls sale and the Jim B. Robertson Sales in Lexington, all while attending the University of Kentucky. Since then, Tom has worked hundreds of horse sales all over the country, including working as an auctioneer for the oldest Thoroughbred auction company in America, Fasig-Tipton Co., for over 25 years and working for the Teater Family at Tattersalls.
Joining Tom at the sales block is Jim Price, CAL-GRI. Jim represents years of expertise in every facet of the horse industry, including breeding, training, showing, buying and selling of several breeds of horses. We're pleased to offer Jim's professional knowledge earned at horse auctions across the United States.
Tom and Jim, collectively, have extensive experience in equine, real estate, personal estate and vehicle auctions, and we welcome them to our Robertson Equine Sales.
And, of course, the renown auctioneer Walt Robertson, brother to Jimmy, is a mainstay in our sales ring.
A long-time leader in the equine auction industry, Walt dropped the hammer on the winning bid for the famed Calumet Farm, and holds the record for the highest price of a Thoroughbred horse sold at public auction. Walt says his mission is clear: "To sell each horse to its highest efficiency." It is our honor to have him at the rostrum at Robertson Equine Sales LLC.
Announcer Peter Fenton, the popular voice of American Saddlebred horse shows, keeps our audience informed, both in the sales arena and throughout the grounds. We are, indeed, very pleased to have Peter on our team.
Barn & Paddock Crew We retain capable, experienced, courteous staff on hand to assist you. Please don't hesitate to let us know what we can help you with.