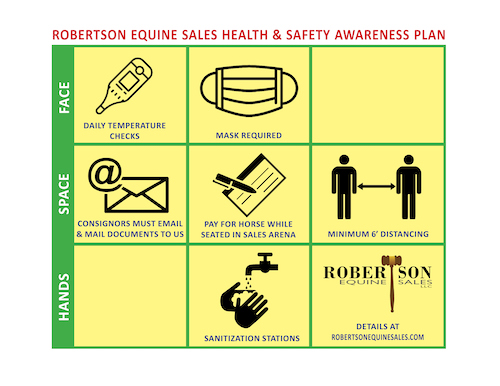 HEALTH & SAFETY AWARENESS ADVISORY
We will do our best to keep you safe from COVID-19 while you're attending our sale ... but we must have your cooperation. Remember: Face, Space, and Hands.
Face: Masks are required in all buildings/barns unless you are functioning as an auctioneer, while riding/driving a horse, handling a horse in the sales arena, or eating/drinking.
Space: Stay at least six feet apart from persons who are not in your household. Bring with you only persons essential to the selection or sale of a horse. Spectators who are not essential to buying or selling a horse are safer at home; and, capacity restrictions do not allow us to have our normal-sized attendance.
Hands: Wash your hands frequently by utilizing our Sanitation Stations or using soap and water in the Restroom area.
Our Health Safety Officer, Carol Reams, R.N., and her team will be on site to oversee our processes and assist us in protecting your health.

IMPORTANT PROCEDURAL CHANGES:

Consignors

must forward Coggins and health papers to us via email at

This email address is being protected from spambots. You need JavaScript enabled to view it.

; registration certificates must be mailed or overnighted to us at P. O. Box 616, Simpsonville, KY 40067.
Be prepared to complete your transaction while remaining in your seat in the sales arena or by visiting one of the tables in the back of the sales barn. Visits to the sales office are restricted and limited to transactions that cannot be handled in the sales barn (i.e., multiple purchases, cash payments).
Listen closely to verbal announcements about new procedures while at the sale.
To assist you in bidding on a horse safely from home, we have a new procedure:
Visit RobertsonEquineSales.com, Terms & Forms page, and download/complete the Telephone Bid Authorization Form for RES Autumn 2020.
When we have received this form, we will call you when the horse you're interested in enters the sales lane.
Thank you for your support and cooperation in these challenging times. Working together, we can safely conduct this event and continue to promote the show horse business. Questions or concerns are always welcomed. As always -- stay safe while participating at our Autumn 2020 Sales event.

Jimmy & Helen Robertson
and Staff
Robertson Equine Sales LLC